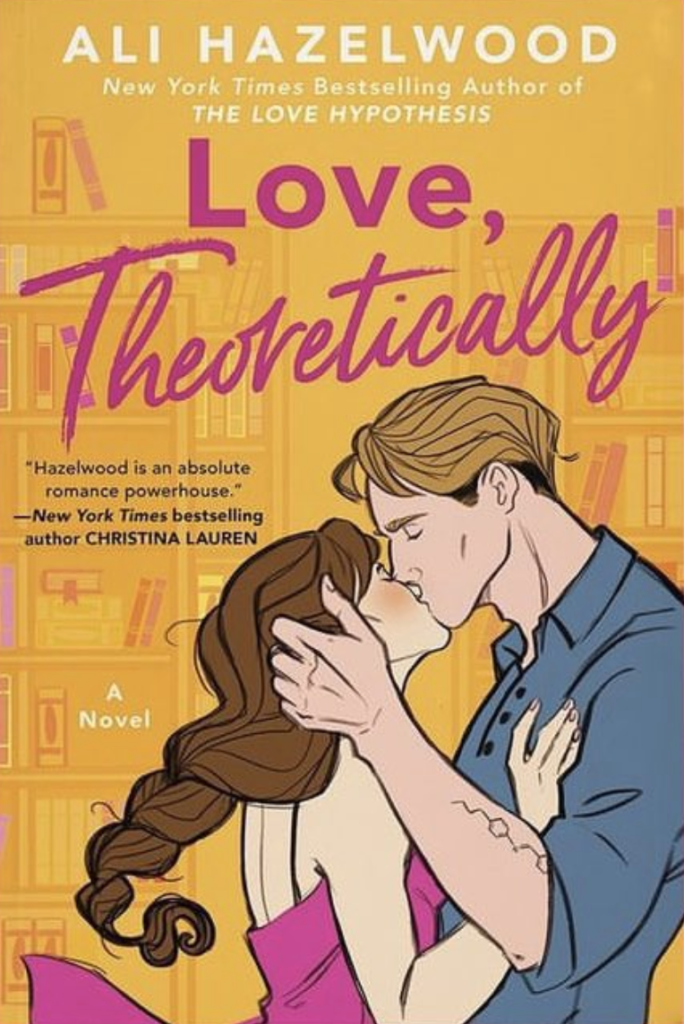 Title: Love, Theoretically
Author: Ali Hazelwood
Rating: ⭐⭐⭐⭐
Goodreads link
Thank you for the free book PRH International.
#PRHInternationalPartner #ad and #prhinternational
synopsis
Rival physicists collide in a vortex of academic feuds and fake dating shenanigans in this delightfully STEMinist romcom from the New York Times bestselling author of The Love Hypothesis and Love on the Brain.
The many lives of theoretical physicist Elsie Hannaway have finally caught up with her. By day, she's an adjunct professor, toiling away at grading labs and teaching thermodynamics in the hopes of landing tenure. By another day, Elsie makes up for her non-existent paycheck by offering her services as a fake girlfriend, tapping into her expertly honed people-pleasing skills to embody whichever version of herself the client needs.
Honestly, it's a pretty sweet gig—until her carefully constructed Elsie-verse comes crashing down. Because Jack Smith, the annoyingly attractive and broody older brother of her favourite client, turns out to be the cold-hearted experimental physicist who ruined her mentor's career and undermined the reputation of theorists everywhere. And that same Jack who now sits on the hiring committee at MIT, right between Elsie and her dream job.
Elsie is prepared for an all-out war of scholarly sabotage but…those long, penetrating looks? Not having to be anything other than her true self when she's with him? Will falling into an experimentalist's orbit finally tempt her to put her most guarded theories on love into practice?
book review
Ali Hazelwood is probably the only author who can disappoint me without actually disappointing me. Love, Theoretically was most definitely fun and enjoyable, and I binged in a day. However, it's the same story as in her previous books and novellas – a very tall and big guy falls for a girl, and said girl thinks he hates her and wants to ruin her scientific career, all while the guy actually does everything he can to protect her.
Jack Smith is my favourite of Ali Hazelwood's men, because he is so raw, makes mistakes too (like a human being should), and has a bit of a bad-boy vibe, which I love. Elsie is a bit of a compulsive liar (she is a people-pleaser) but I didn't find that as annoying as I thought it would be. More annoying to me was her self-consciousness – when a man tells you repeatedly he is attracted to you, that means that he is, in fact, attracted to you. I also loved the diabetes rep in this book.
Overall, it's a fun read, which will make you smile, and probably love Jack Smith (especially after the spicy scenes). So I recommend it, especially if you liked some of her previous books.