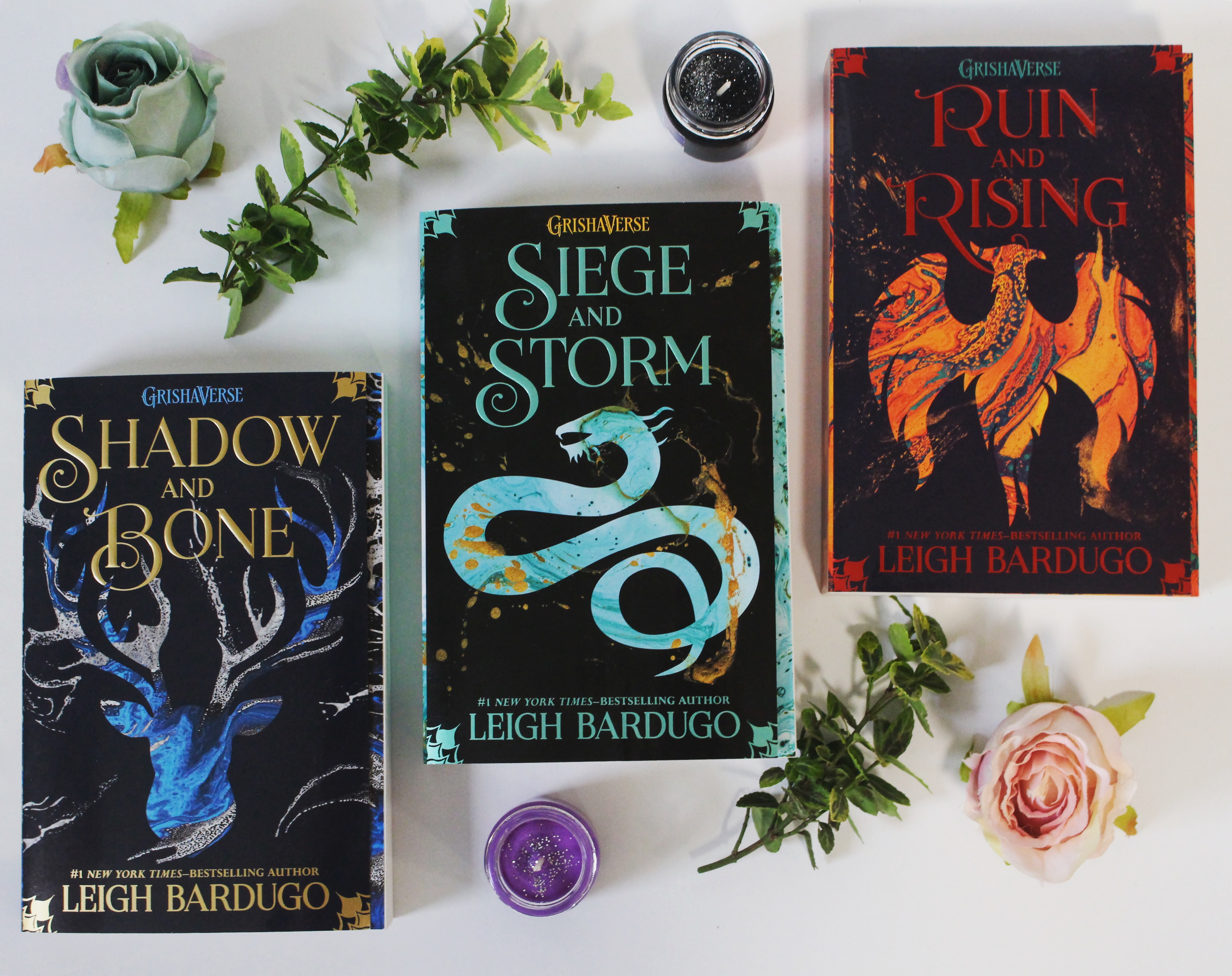 August was not a good month for my reading since I've started working and it was all new to me. Honestly, I mostly came home, ate and went right to sleep. But I managed to read a few books I've liked. I've wanted to read 'Grishaverse' for a while now and, while I ordered it in July, it only arrived at the beginning of August. The covers are incredible – they are so shiny and the map that came with them was just so cute. 'Throne of Glass" has been on my "to be read" list since I first read 'A Court of Thorns and Roses' and I finally gave it a try.
'Shadow and Bone' Leigh Bardugo
★★★★★
Honestly I wasn't expecting it to be so good. I've read "Six of Crows" before and I've loved it – I never thought that Grishaverse can even compete with it. Well, it can compete with "Six of Crows", but it can't win. Nevertheless, "Shadow and Bone" was amazing – it had amazing characters, a perfect villain and a good plot.
'Siege and Storm' Leigh Bardugo
★★★★★
I might had given it four stars had it not been for Nikolai's character which is incredible. I will never know how Leigh Bardugo manages to write such amazing and complicated characters that make me fall in love with them. Also, I liked that Alina got to return to the Little Palace.
'Ruin and Rising' Leigh Bardugo
★★★★☆
It wasn't as good as the first two parts, but it was still fun to read (expect the part when I cried and the other part when I cried). I think the story with the third amplifier was a bit too confusing, but I have to admit that I loved the ending – it was just perfect.
'Throne of Glass' Sarah J. Maas
★★★★☆
The thing about reading a book by one of your favourite authors is that you have high expectations. And, after reading "A Court of Thorns and Roses" series I definitely had high expectations when I bought "Throne of Glass". I really liked it – Celaena's character was just perfect (an assassin who loves both clothes and reading? Can you have a better combo?), but something just didn't click for me.
'Hannibal: Enemy of Rome' Ben Kane
★★★☆☆
I love Ben Kane's books, mostly because he writes historical fiction about ancient Rome. His books always have a great plot and are historically adequate. 'Hannibal: Enemy of Rome' was good, but something just didn't click for me. I didn't love it as much as I loved 'The Forgotten Legion'. Overall, Hanno's history didn't convince me and I've found Quintus annoying.
'The Daughter of the Pirate King' Tricia Levenseller
★★★★★
I honestly wasn't expected it to be so good. I was pleasantly surprised by it and it took me about ten pages to absolutely fall in love with Alosa who is another badass female character. Before I started reading this book I've thought that the plot sounds a bit cheesy, but it ended up being well-written and perfectly thought-out. Basically, I love it and I immediately ordered the sequel, 'The Daughter of the Siren Queen'.