This is an experimental comeback to posting my monthly wrap-ups on my blog but please don't hold me accountable when I inevitably forget about it.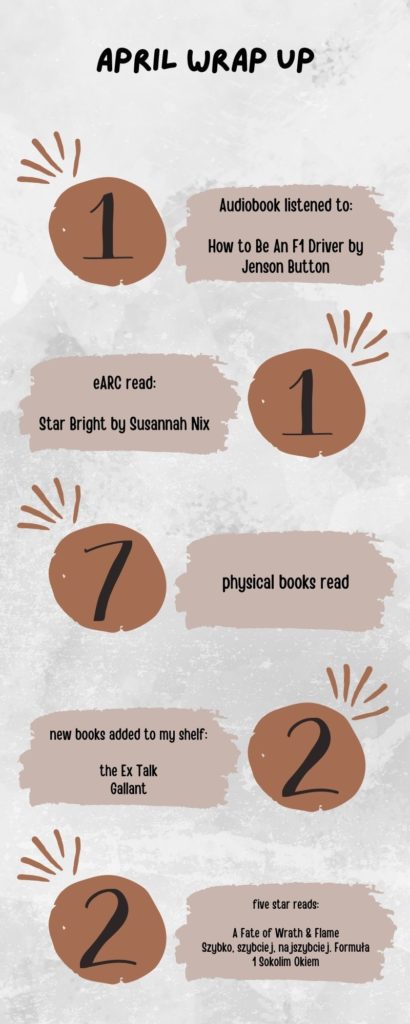 April reading wrap-up
Skin of the Sea 3,5 ⭐️
Only a Monster 4 ⭐️
Szybko, Szybciej, Najszybciej 4,5 ⭐️
In the Ravenous Dark 4 ⭐️
Star Bright (eARC) 3,5 ⭐️
The Ex Talk 4 ⭐️
The Cursed and the Broken 4 ⭐️
A Fate of Wrath and Flame 5 ⭐️
How to Be An F1 Driver (audiobook) 3,5 ⭐️
Favourite Book
My favourite book this month was A Fate of Wrath & Flame by K.A. Tucker. It is an adult fantasy with romance and it was absolutely amazing! I'm gonna post a more detailed review soon but if you are in the mood for adult fantasy I highly recommend this one!
It has:
literal enemies to lovers;
slow burn (the slowest lmao);
alternative worlds;
royals and magic;
Most Surprising
Other than A Fate of Wrath & Flame, I would say that Only a Monster surprised me with how different it was from what I was expecting. It isn't one of my new favourites but it definitely was different from what I was expecting (for instance it had time travel).