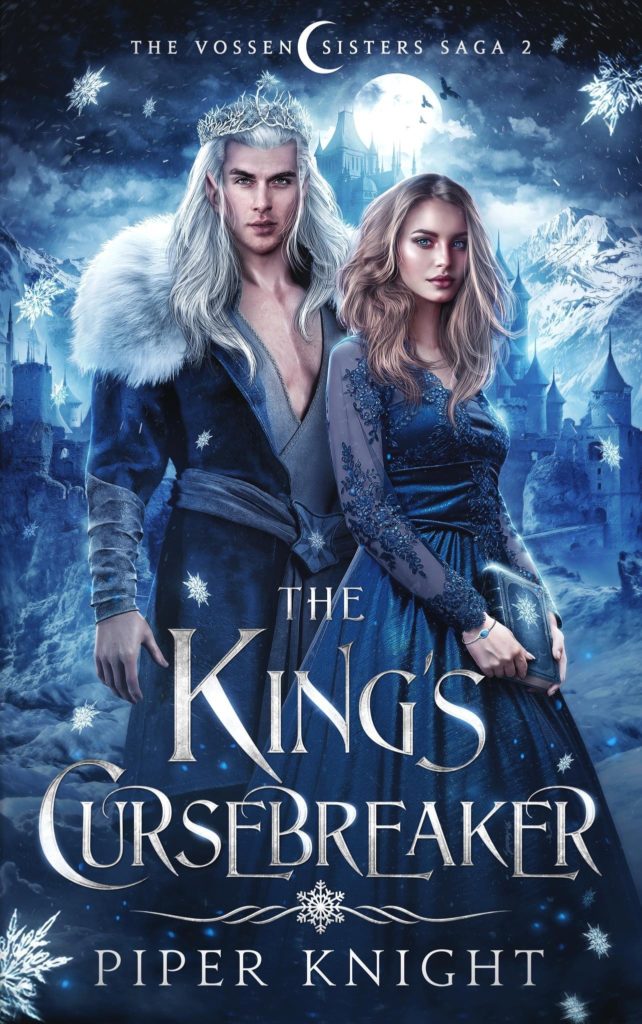 Title: The King's Cursebreaker (The Vossen Sisters Saga #2)
Author: Piper Knight
Rating: ⭐⭐⭐⭐
synopsis
Two sisters. Two worlds. Two deadly bargains.
Taken by the Winter King…
To save her sister, newly-witch Elizabeth Vossen makes a deal with the ruthless, ice-cold Unseelie King to break his wintry curse. The moment his freezing fingers wrap around her wrist, she's whisked to the faerie realm – and to her dismay, her magic goes dry.
In a terrifying kingdom of wicked tricksters, Beth must regain her powers with the Winter King Alistair, himself – the most wicked of them all. But there's more to this brutal, cold-hearted faerie than meets the eye, and he's as deeply intoxicating as he is arrogant.
But time is running out. As the full moon draws near, the curse threatens to sink its cold claws and never let go. And in this wicked world of the fae where danger lurks around every corner, the king is her only chance of returning home – or staying alive.
Blackmail is a buzzkill…
Bell Vossen didn't think her life could get more complicated after falling in love with a warrior angel and gaining sinister shadow magic from her evil ancestor. But then the cold-blooded Silver Witch Queen becomes her boss.
The bargain? Bring down one of the most powerful supernatural groups in the world, lest Bell and Braxiel's sinful secret be revealed. But when Bell is attacked by a black-eyed wolf shifter with mysterious powers that can take down a divine angel with ease, not only is their mission at stake – but the entire supernatural world as they know it.
Bell and Brax must find out how to defeat these lethal, cutthroat creatures – while fighting against their fiery, forbidden desire before it burns everything in its place. But when did Bell ever play by the rules?
Wickedly sharp and even sexier than the last, this spellbinding new adult fantasy & paranormal romance is the seductive second book in the action-packed, fast-paced Vossen Sisters Saga.
Book Review
The King's Cursebreaker is the continuation of the Accidental Kingslayer, and I'm actually glad we got a continuation of Bell and Braxiel's story and not just Beth and Alistair's story. I have to admit that I found Bell and Braxiel's story more interesting than Beth and Alistair's, not just because of the romance but also because of the overall plot.
Bell and Braxiel have one of the best partners-in-crime dynamics, and I just love my angles okay (I'm still voting for more Yaz and his himbo energy). Their part of the book was full of plot twists, and new turns, and I just loved their adventures (especially the London part of it).
Therefore, I found myself a bit bored during Beth's part of the story. I didn't think her chemistry with Alistair was half as good as Bell's with Braxiel. The curse-breaking part could have had a better ending, one that made more sense to me (no spoilers). I find myself excited for the next book solely because of Bell, Braxiel and the angels. To be honest, I have no interest in the continuation of Beth's story or getting to know Brooke's.
However, I do recommend reading The King's Cursebreaker since it's a really fun, fast-paced read. I think I read it in two days because it's really well-written. And the spicy scenes were AMAZING. So I would definitely give the King's Cursebreaker a go, and (if you haven't yet) DEFINITELY read the Accidental Kingslayer.
An eARC was sent to me by the author in exchange for my honest review. Thank you so much!