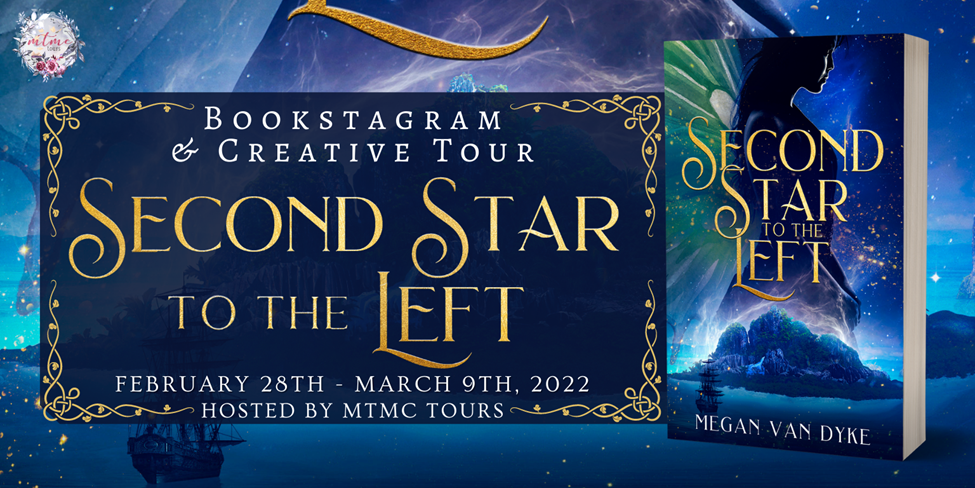 Today I'm excited to participate in the Bookstagram & Creative Tour for Second Star to the Left by Megan Van Dyke hosted by MTMC Tours. This is an Adult Fantasy Romance and it was published on February 15th, 2022 from City Owl Press!
BASICS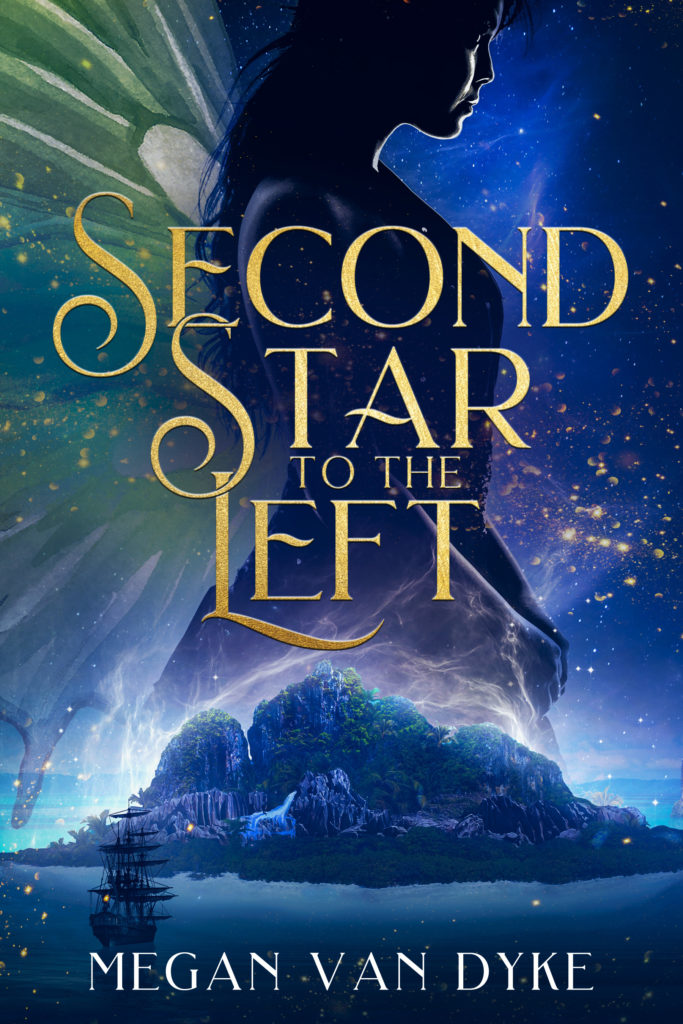 Tinker Bell, banished from her homeland for doing the unthinkable, selling the hottest drug in Neverland—pixie dust—wants absolution.
Determined to find a way home, Tink doesn't hesitate to follow the one lead she has, even if that means seducing a filthy pirate to steal precious gems out from under his…hook.
Captain Hook believes he's found a real treasure in Tink. That is, until he recovers from her pixie dust laced kiss with a curse that turns the seas against him. With his ship and reputation at the mercy of raging storms, he tracks down the little minx and demands she remove the curse. Too bad she can't.
However, the mermaid queen has a solution to both of their problems, if Tink and Hook will work together to retrieve a magical item for her. As they venture to the mysterious Shrouded Isles to find the priceless treasure, their shared nemesis closes in. However, his wrath is nothing compared to the realization that achieving their goal may mean losing something they never expected to find—each other.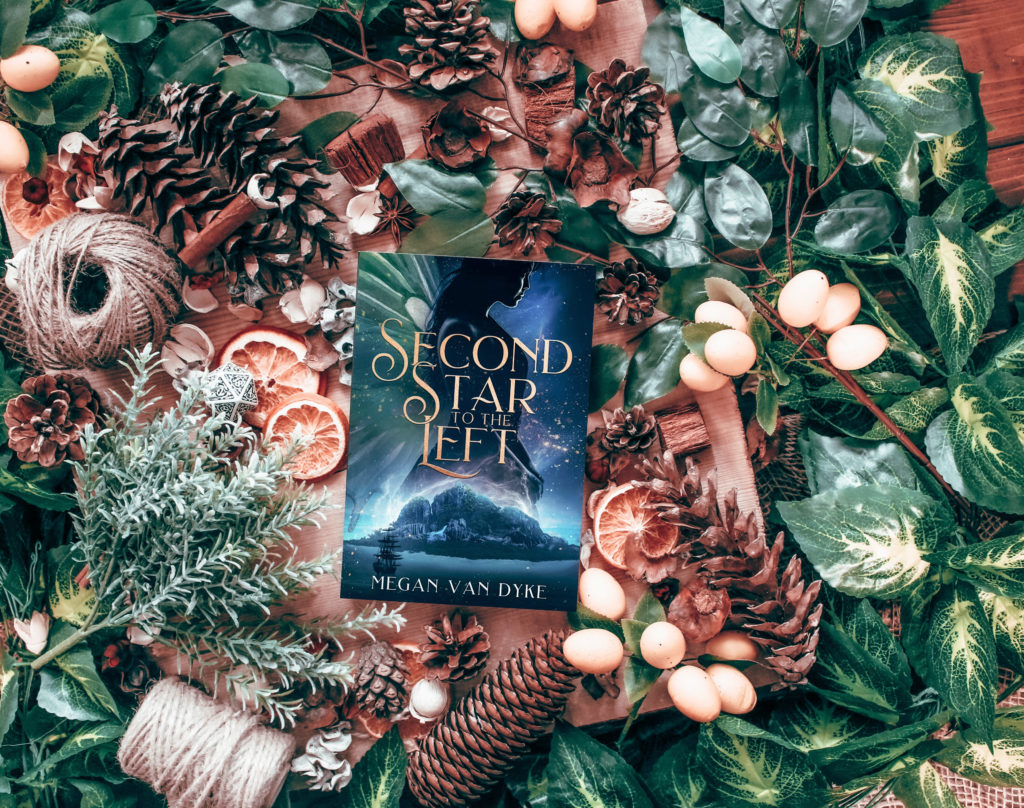 REVIEW
I've never would have thought that a Peter Pan retelling featuring a Hook/Tinkerbell romance is what I need, but apparently, it was. Second Star to the Left by Megan Van Dyke is a fantasy romance telling the story of Tinkerbell, a pixie known from Peter Pan, who got banished from her homeland for selling her pixie dust. Tinkerbell, or Tink for short, is looking for another way home when she crosses paths with the famous Captain Hook. Needless to say, the sparks fly from their first meeting (even though Tink seduced him and stole his treasure).
I really enjoyed this book, especially the different approach to the Peter Pan story because I would have never imagined a Hook/Tink pairing. It works oddly well in Second Star to the Left. The chemistry between Hook and Tink is undeniable from their first meeting, and I absolutely loved seeing their relationship progress over the course of the book. Having a dual POV definitely helped me understand their relationship a bit more and made them both more likeable to me.
Tinkerbell is a perfect combination of adorable and badass, which doesn't happen often in main characters. She can take of herself, but at the same time, she is not afraid to blush or cry. Captain Hook is the charming pirate who is probably gonna steal your heart from the first pages of the book, but to be fair all great love interests do that.
The book has a lot of different twists, some of which I was expecting and some of which took me by surprise. I enjoyed the little references to the original fairytale, and I liked the changes the author made. Smee was probably my favourite change the author has made. I have to admit that while I find Captain Hook absolutely swoon-worthy, a big part of my heart belongs to Smee.
Overall, it's a perfect read for fans of Peter Pan, like me, who want something more adult and serious from a retelling. And, of course, if you are a romance fan you don't wanna miss this one!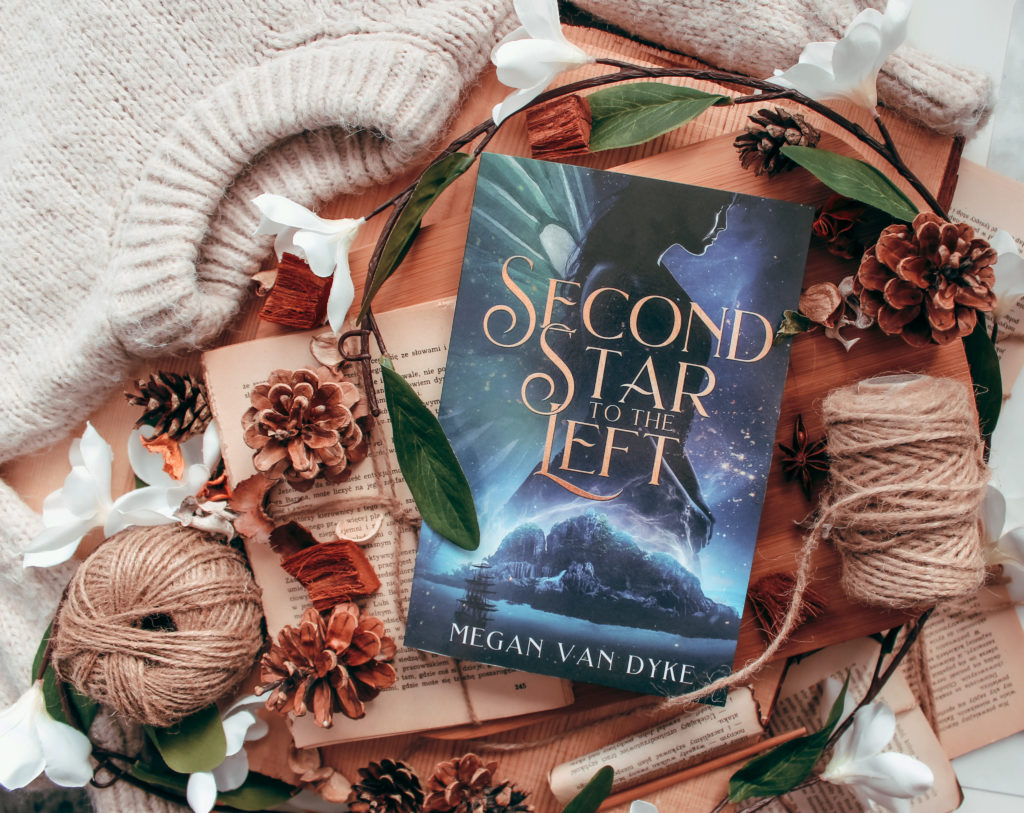 Q&A with the characters
Hi Tink and Hook! Can you introduce yourselves?
Tink: Tinker Bell here, but please call me Tink. I'm one of the youngest top tinkers in Sylvanna Vale's illustrious history. Spending the day working on my designs and eating dew candy is the best.
Hook: Hello, loves. A pleasure to meet you. I'm Captain Hook, the greatest pirate to ever sail the Cerulean Sea, captain of the Jolly Roger, and the most devilishly handsome man you'll ever meet
Tell us about your world! What is it like and how far have you travelled?
Tink: Well, I haven't seen much of the human world. Pixies aren't really supposed to spend much time there, but my cousin and I sneak in sometimes for a night out. Humans really know how to have a good time. The Sylvanna Vale, the pixie homeland, is a paradise! Lush vegetation, beautiful homes in the trees, crystal clear streams, and more food that you could ever need. We take care of the land, and the land takes care of us.
Hook: The sea is my wife, my home. I know it better than anyone living. There's nothing better than the sun on my back, the gentle rock of the Jolly Roger under my feet.
Tell us 2 random facts about yourself!
Tink: I might be a Tinker by birth and trade, but I love music. Most pixie's do, and are great at playing, but if I'm really honest, human music is more exciting. They just infuse it with so much fun and life.
I can't swim. Embarrassing, I know, but there really wasn't a need in the Sylvanna Vale. But now that I'm stuck in the human lands, it really would be helpful if I knew how…or if I didn't get seasick every time I step foot on a boat.
Playlist for Second Star To The Left
Fancast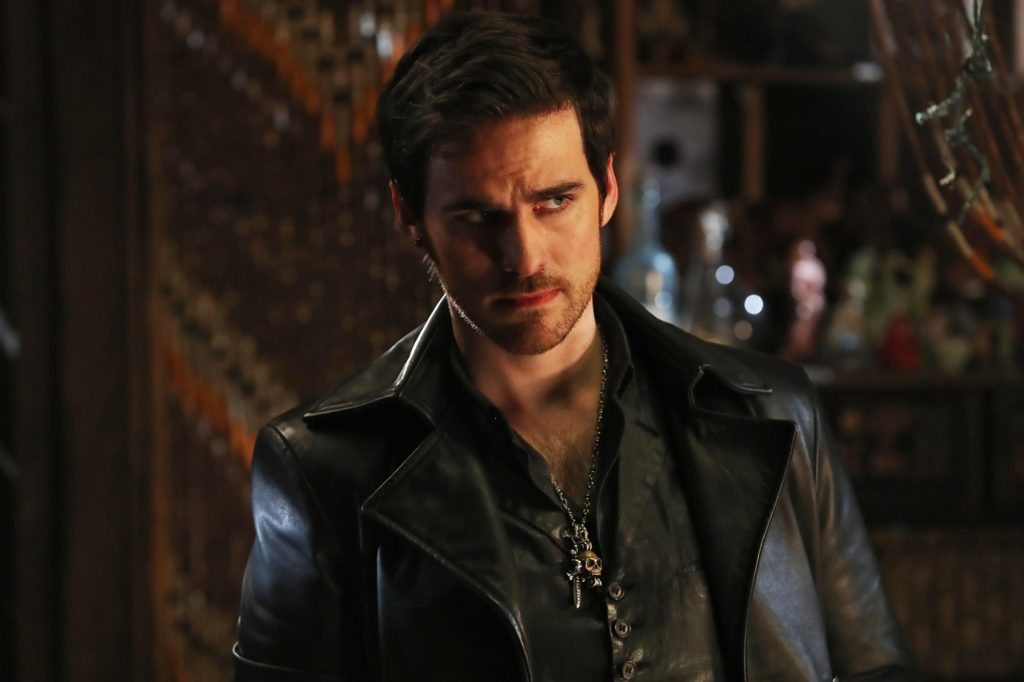 Who better to play Hook than Hook?
Colin O'Donoghue played Captain Hook in the TV show Once Upon a Time, and while reading Second Star to the Left I imagined Hook as this lovely gentleman.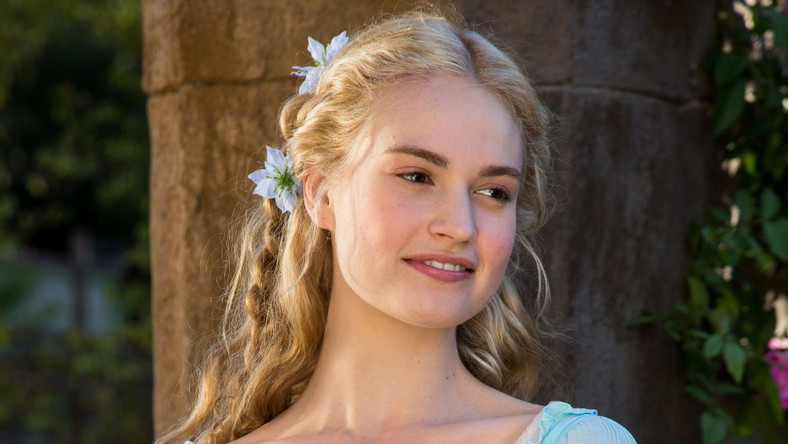 Lily James, in my mind, is a perfect actress to play Tinkerbell. She is adorable and known for her big smile. And she can also be a badass.
Her role in the Cinderella movie immediately came into my mind when I was reading Hook's description of Tink!
INTL Tour-wide Instagram Giveaway
Head over to my Instagram account to enter the tour giveaway where TWO lucky readers will win a paperback copy of Second Star to the Left, a $25 Amazon gift card + mailed swag pack and emailed epilogue!

Ends on March 12th, 2022. Winners will be announced on @mtmctours' Instagram account.
Tour Schedule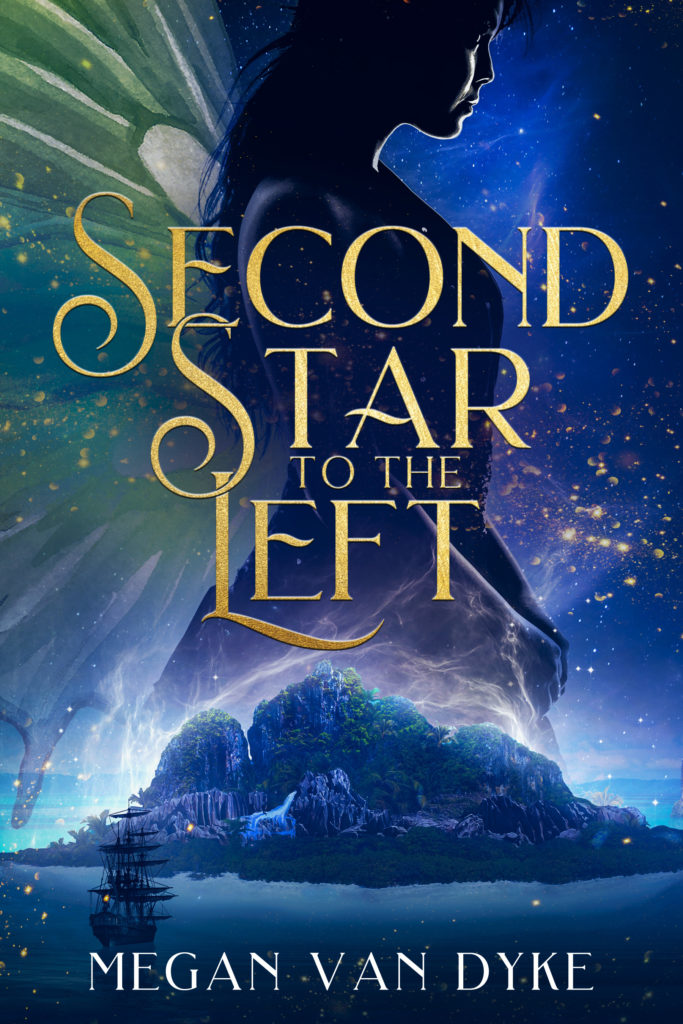 February 28
@thereaderandthechef
March 1
@annoying_sidekick_thoughts
March 2
@paperfury
March 3
@thebookishmusician
March 4
@bookishy
March 5
@buildingourbookshelves
March 6
@thindbooks
March 7
@dreaminginpages
March 8
@shaked_reads
March 9
@the.book.nerd.fox
About Megan Van Dyke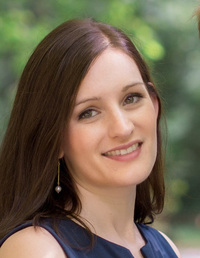 Megan Van Dyke is a fantasy romance author with a love for all things that include magic and kissing. Many of her stories include themes of family (whether born into or found) and a sense of home and belonging, which are important aspects of her life as well. Megan also watched way too many Disney movies as a child, and adult, and has a deep love for fairytales and happily-ever-afters.
Megan is a former IT risk and security executive and current stay-at-home mom. When not writing, Megan loves to cook, play video games, explore the great outdoors, and spend time with her family. A southerner by birth and at heart, Megan currently lives with her family in Colorado.
Hosted by: