Today I'm excited to participate in the Bookstagram tour for Frosted by M.C. Frank hosted by MTMC Tours! Frozen meets Jane Austen in Frosted, the new enemies-to-lovers Regency novel that will melt your heart.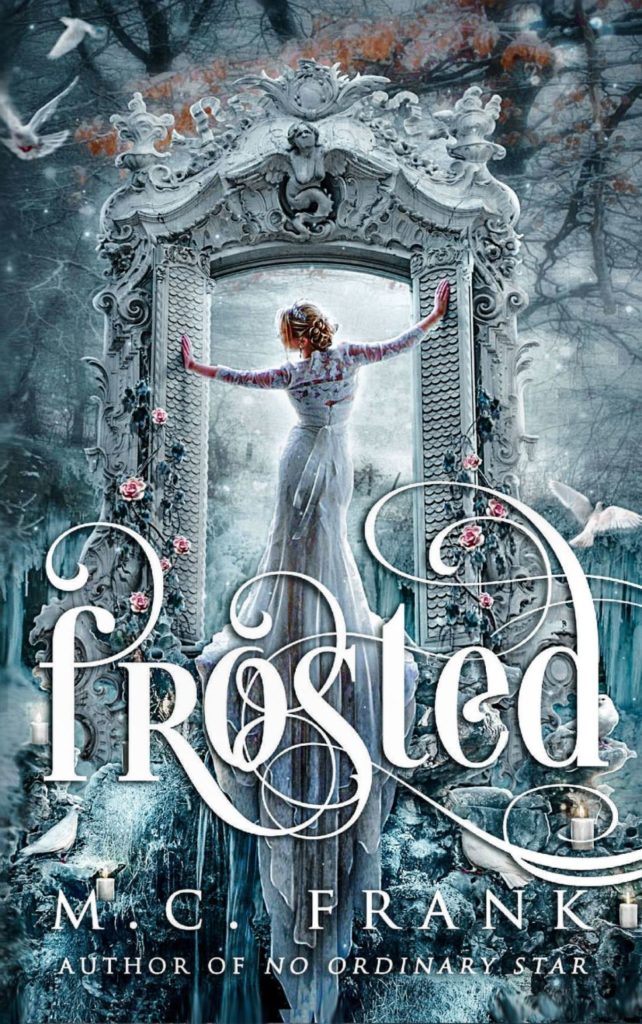 Title: Frosted
Series: Regency Retold #2
Author: M.C. Frank
Publication Date: February 20, 2021
Genres: Regency Romance
Purchase a copy: Amazon | Book Depository
Add on Goodreads!
SUMMARY
Can two people hate each other more than these two?
She has a heart of stone. He is the notorious pirate every lady swoons for.
They have vowed never to meet again.
Captain Timothée Vaughn
Heart: Broken
Face: Gorgeous
Tone: Acidic
Pirate: Yes, he is
Marital Status: Forced into an engagement
Willing to: Break his own arm to escape his wedding tomorrow.
Lady Stella DeWinter:
Heart: Frosted
Face: Angelic but sad
Tone: Silent
Secrets: Many, but one in particular. A very dark one indeed.
Marital Status: Jilted Captain Vaughn right before their wedding, five years ago.
Willing to: Do anything to meet Timothée one last time.
Question: Why? (on earth)
Meeting place: The Frosted Ball.
What follows: Chaos. Noisy ballrooms. Starry skies. White flurries. Hungry kisses. Haughty stares. Frozen lakes. Shaking breaths. The truth. Finally. Frosted is a heart-wrenching romance about a pirate and an ice-cold lady who seem to have hated each other for years, inspired by winter-themed fairytales like The Snow Queen and The Steadfast Tin Soldier. It is set in a witty, glittering Regency world made up of a little bit of Jane Austen, a little bit of Georgette Heyer, and a lot of a modern heart yearning for romance, passion and a tall gentleman with a smoldering gaze. This is a broken tale of beauty, dark secrets and love lost.
MINI REVIEW
I really enjoyed the love story between Stella and Vaughn, and we all know I have a weakness for privateers so I basically loved Vaughn from the beginning of the book. The writing was amazing – I really felt as if though I was reading a book from Regency times, and the mood set by the book was absolutely magical! Also, the plot twist in the middle absolutely shocked me, and I really liked how it was handled. If you like historical romances I recommend you try this one!
5 HISTORICAL FICTION SHOWS TO WATCH AFTER READING FROSTED
Downton Abbey
It's a British historical drama set in the early 20th century, which is set in the country estate of Downton Abbey, and follows the lives of the Crawley family and their servants. Thanks to the show, you can get some insight into living in the English countryside (just like Stella), and see on the screen what proper ballroom behaviour is! Also, the British accent in Downton Abbey is swoon-worthy (just like Vaughn!).
the Tudors
It's a historical fiction set in 16th century England, which follows the rule of Henry VIII, who is famous for his six wives and for the creation of the Anglican Church. It is a little bit before the time period in Frosted, but you can get the whole English court vibes (also, the communication problems almost equal Vaughn and Stella!).
Reign
It's American historical fiction, but it focuses on the life of Mary, Queen of Scots, and her life in the French Court. When I was reading about Stella's dresses this show instantly came to my mind! Also, the dancing scenes make me think of Vaughn's first Christmas with Stella.
the Spanish Princess
It's a historical fiction, which follows the story of Catherine of Aragon, a Spanish princess, sent to England to become the Queen of England. The outfits in the show are amazing, and young Catherine of Aragon reminds me so much of Stella (I think their character development is quite similar).
Victoria
It's historical fiction following the first years of the reign of Queen Victoria, one of the longest-ruling monarch in British history. The action of the show takes place more or less in the same time period as Frosted, and it gives good insight into what Stella and Vaughn's world looked like.
MEET THE CHARACTERS Q&A
Vaughn! What led you to the pirate– er, I mean privateer life?
Vaughn: I was wounded in the Navy, and had to retire. I still have a limp, but that doesn't prevent me from having adventures. I became a privateer because I decided to join a worthy cause, and help clear the high seas of criminals and pirates. Most privateers do it for the gold, but I have no need of it. Also, *voice grows dreamy* I had promised a girl that I would have a pirate ship one day.
Stella! What's something you're passionate about?
Stella: Some of my passions include reading, riding, gardening, and spending time with my best friend, Georgina. But my biggest passion is fashion. I spend hours looking over catalogues and dreaming up new gowns. Then, of course, there are the accessories, hats, gloves, slippers…I don't often go to London, and Georgina says my fashion sense is wasted here in Highberry, but I highly disagree. Good taste and aesthetics are important everywhere, don't you agree?
What's your greatest strength?
Stella: I have gotten very good at hiding my true feelings. From myself, mostly. But I don't know if that is a strength. I am told that I have been strong in the face of incredible adversity, but I myself don't see it. I just do the best I can and carry on.
Vaughn: Love. My strength is love. Oh, and holding a grudge, I'm very good at that too. *thinks for a bit*. Wait…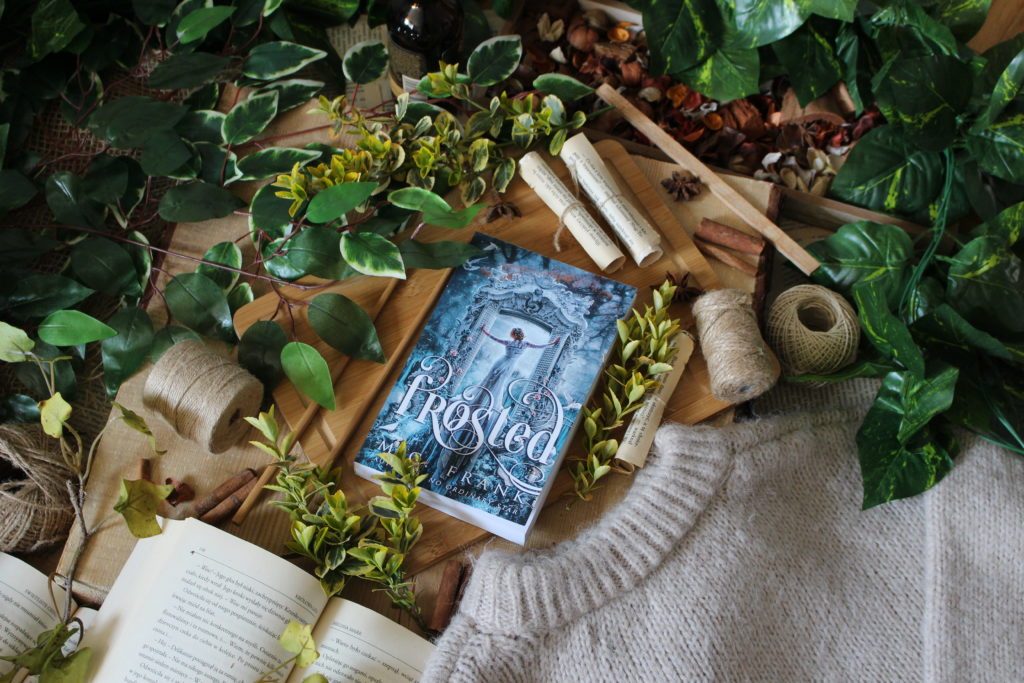 TOUR SCHEDULE
April 26
@thereaderandthechef – Bookstagram + Book Blog
April 27
@gcreads04 – Bookstagram
April 28
@paperfury – Boostagram + Book Blog
April 29
@nelthewhichcraftsbooks – Bookstagram + Book Blog
April 30
@kalisbookishrambles – Bookstagram
May 1
@bookishy – Bookstagram + Book Blog
May 2
@greta_in_blues – Bookstagram + Book Blog
May 3
@joyfulreader – Bookstagram
May 4
@foksha_1996 – Bookstagram + Book Blog
May 5
@aliyahherondale – Bookstagram
INTERNATIONAL INSTGRAM GIVEAWAY
Head over to my Instagram account to win a paperback copy of Ruined (book 1 in the Regency Retold series) and Frosted (book 2). Both novels can be read as standalones! This giveaway is open internationally and ends on May8th, 2021. Winner will be announced on @mtmctours' Instagram account.
ABOUT THE AUTHOR – M.C. FRANK
M.C. Frank (writer, reader, designer, physicist and teacher, to name a few) has been living in a world of stories ever since she can remember (that's before she knew how to write). She started writing them down when she could no longer stand the characters in her head screaming at her to give them life, and while those first scribblings weren't exactly good (nor were they books, although she insisted on calling them that), they were enough for her to discover her passion in life.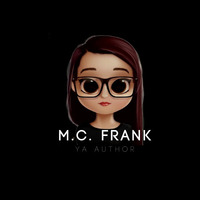 She got her university degree in physics a few years ago (yes, she's like Sheldon, only a bit crazier!) and is now free to pursue her love of reading and writing, as well her free-lance job as editor-in-chief.
She lives with her 'dude' in a home filled with candles, laptops and notebooks, where she rearranges her overflowing bookshelves every time she feels stressed. Which is often, since (as you might have noticed) she doesn't pick the easiest subjects for her novels.
Website | Instagram | Goodreads | Twitter
Hosted by: