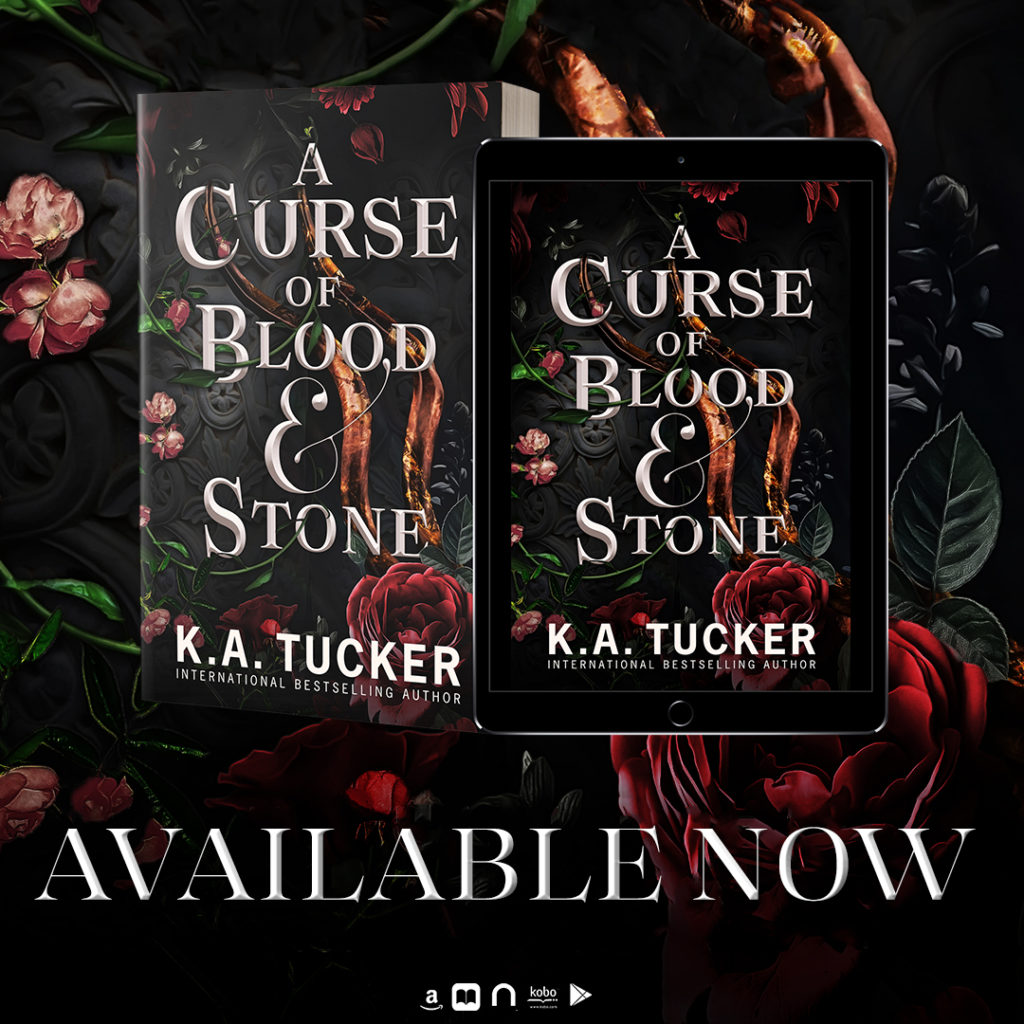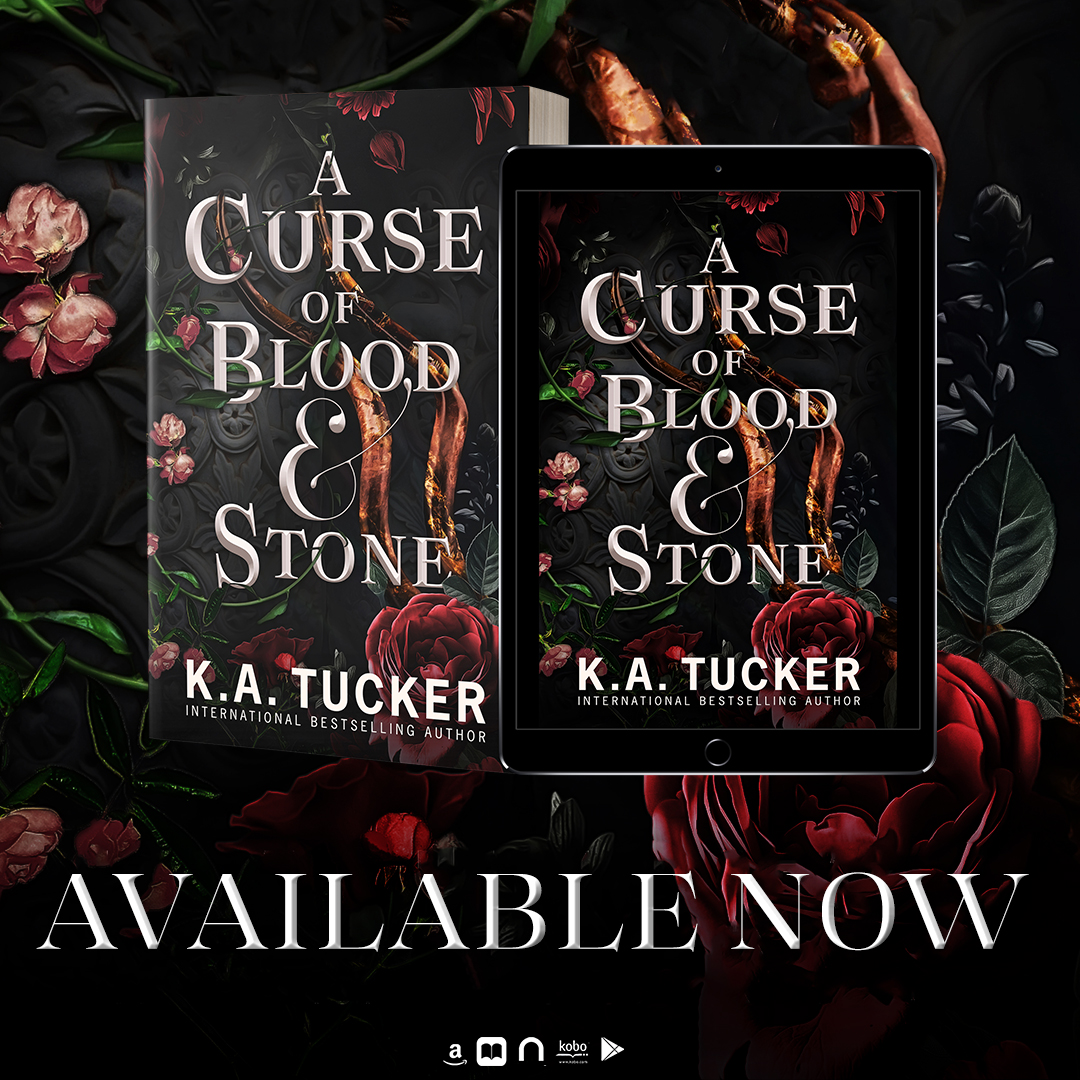 A Curse of Blood & Stone (second book in Fate & Flame series) by K.A. Tucker
summary
From internationally bestselling author K.A. Tucker comes the second novel in her Fate and Flame series, an adult fantasy story that should be read in series order.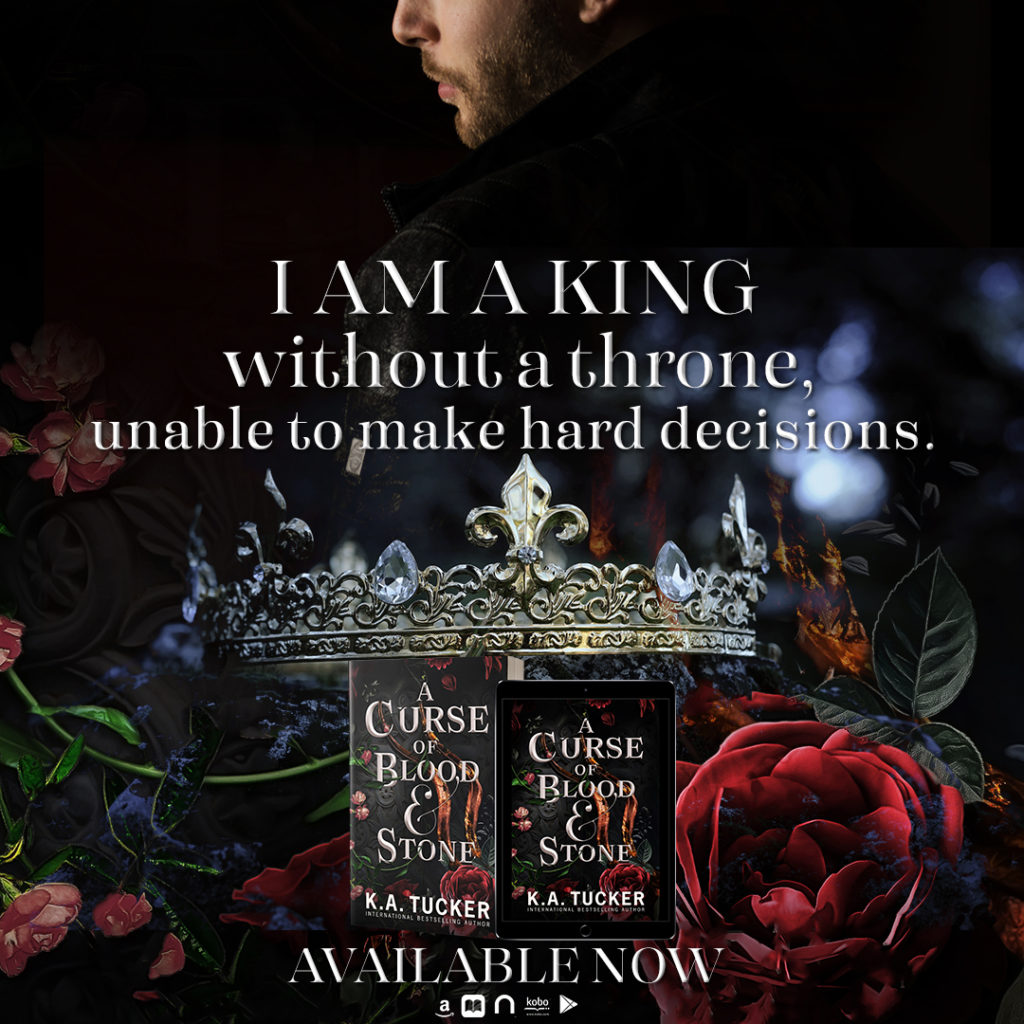 "I do not know how to love you and be a good king to my people."
From jewellery thief to interloper to queen-in-waiting, Romeria flees Cirilea a traitor to all. But the yawning distance between her and Zander troubles her more than any king's bounty on her head. While Zander may have escaped by her side, he seeks to regain his throne, and no immortal will ever welcome her as Islor's queen. She fears it won't be long before Zander abandons her as everyone else she's ever loved has.
Zander sacrificed his crown to save Romeria's life, yet he dreads what her existence means for the future of his realm. As Ybaris's plan to destroy Islor unfurls, a more insidious threat, orchestrated by rival fates, lurks beneath the surface. He can offer his allies no honest explanation for why he protects the Ybarisan princess and takes counsel from Queen Neilina's caster, leading those closest to doubt his wisdom—and his allegiance.
As their company aims for the Venhorn Mountains, steered by prophecy, Romeria is desperate to wield her newfound abilities to undo Princess Romeria's treachery before the kingdom tears itself apart. But with the mortal rebellion swelling, bolstered by the gift of Ybaris's poison, it may already be too late.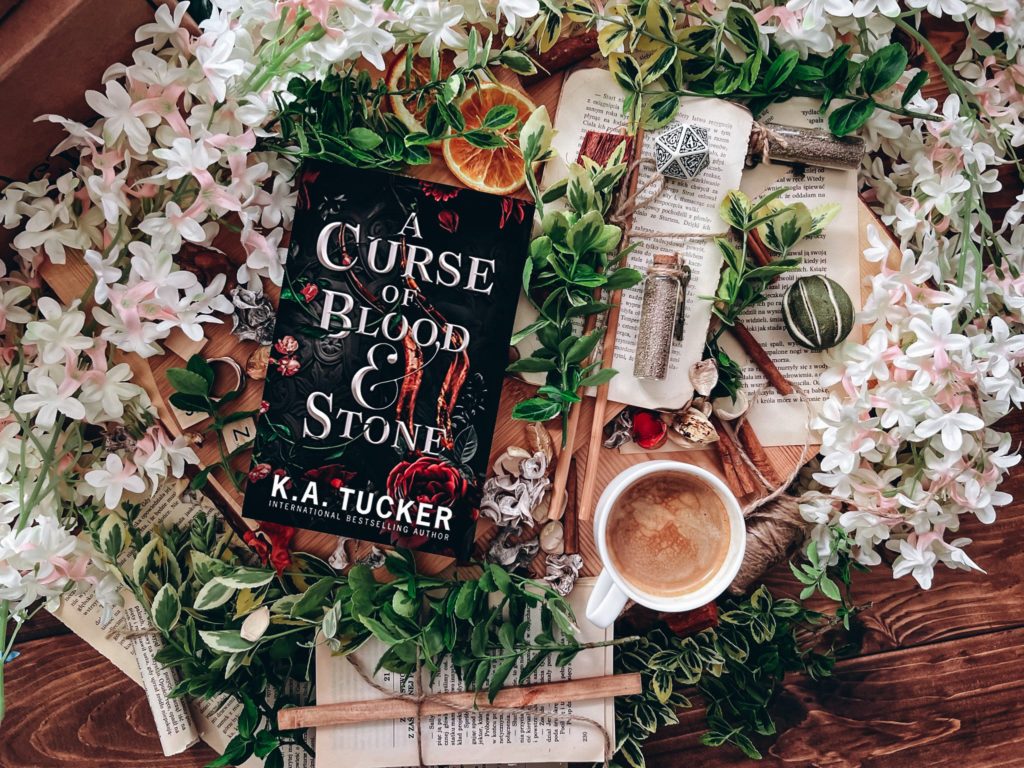 review
I absolutely loved this first book in the series (A Fate of Wrath & Flame) and I was so glad the second book did not disappoint. It was surprising in many ways and a bit slower than the first book, but I'm glad there was still a lot of intrigue and romance.

A Curse of Blood & Stone was still fast-paced (I read it in three days), and it was action-packed, even if there were not many prominent events. I absolutely loved the progress of the relationship between Zander and Romeria throughout this book, starting from distrust and hurt at the beginning of the book, and seeing their relationship develop more. Their scenes together are so intense, and I found myself having to put down this book to calm down. Romeria and Zander are a perfect match, with their good hearts, and a bit of temper. If you haven't read it yet, please do, even if it's just for Zander's cunningness and charm. He is now my number one book boyfriend! Romeria is one of my favourite main protagonists, even though her good heart was driving me mad sometimes. I enjoyed reading her discover and develop her powers.

As much as I love the main characters (I would literally die for Zander), the side characters did not disappoint. Elijah was my favourite secondary character from the first book, but in the second book Jarek stole the show (I swear that man is so arrogant and self-righteous), but I cannot help but like him more and more with each chapter. If you haven't read the first book, please do – it is absolutely amazing. And the second book did not disappoint. The ending has filled me with dread for the third book though. It was as good as the first book and where I can sell my liver for the third book?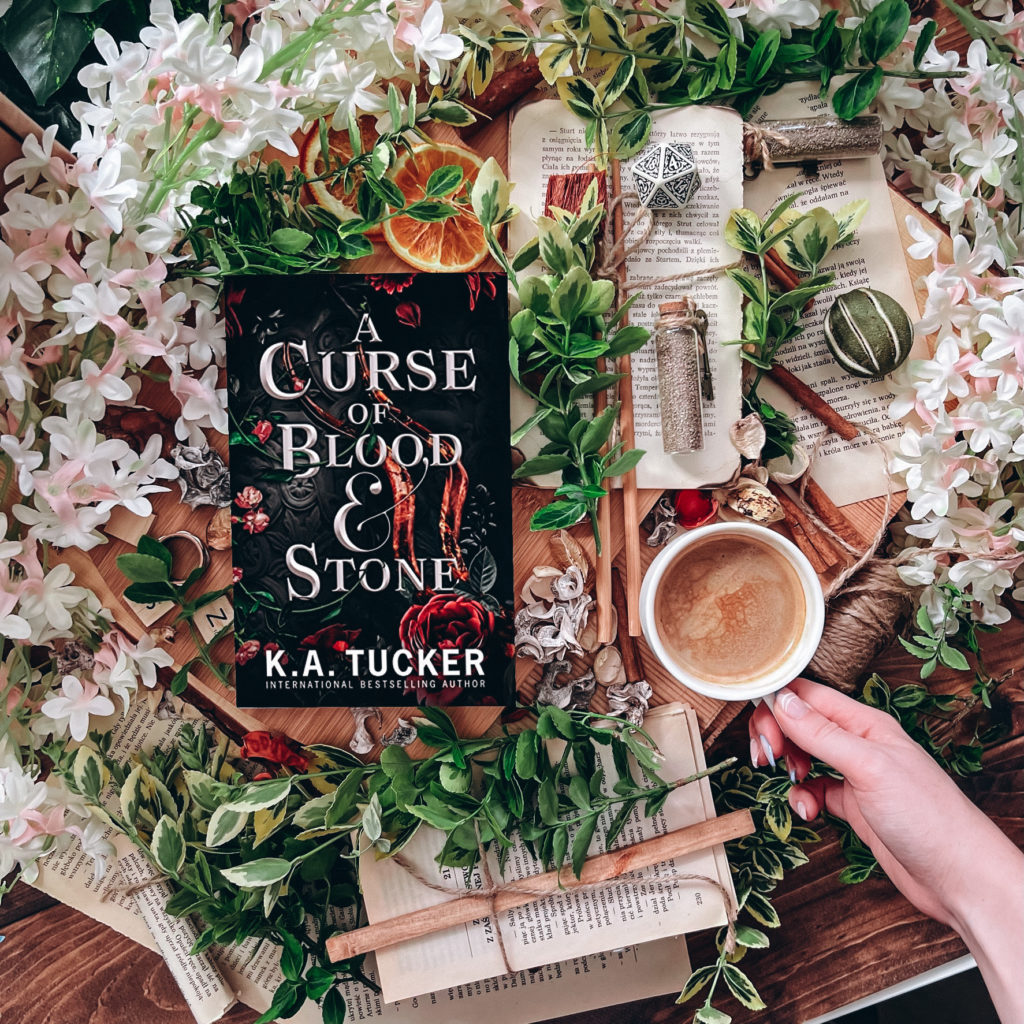 Download today!
Amazon: http://hyperurl.co/j4kbqr
Apple Books: http://hyperurl.co/cen7es
Nook: https://bit.ly/3Cmeelk
Kobo: https://bit.ly/3Aq6EWa
Audiobook: Releasing October 25th!
Goodreads: https://bit.ly/3lw83o4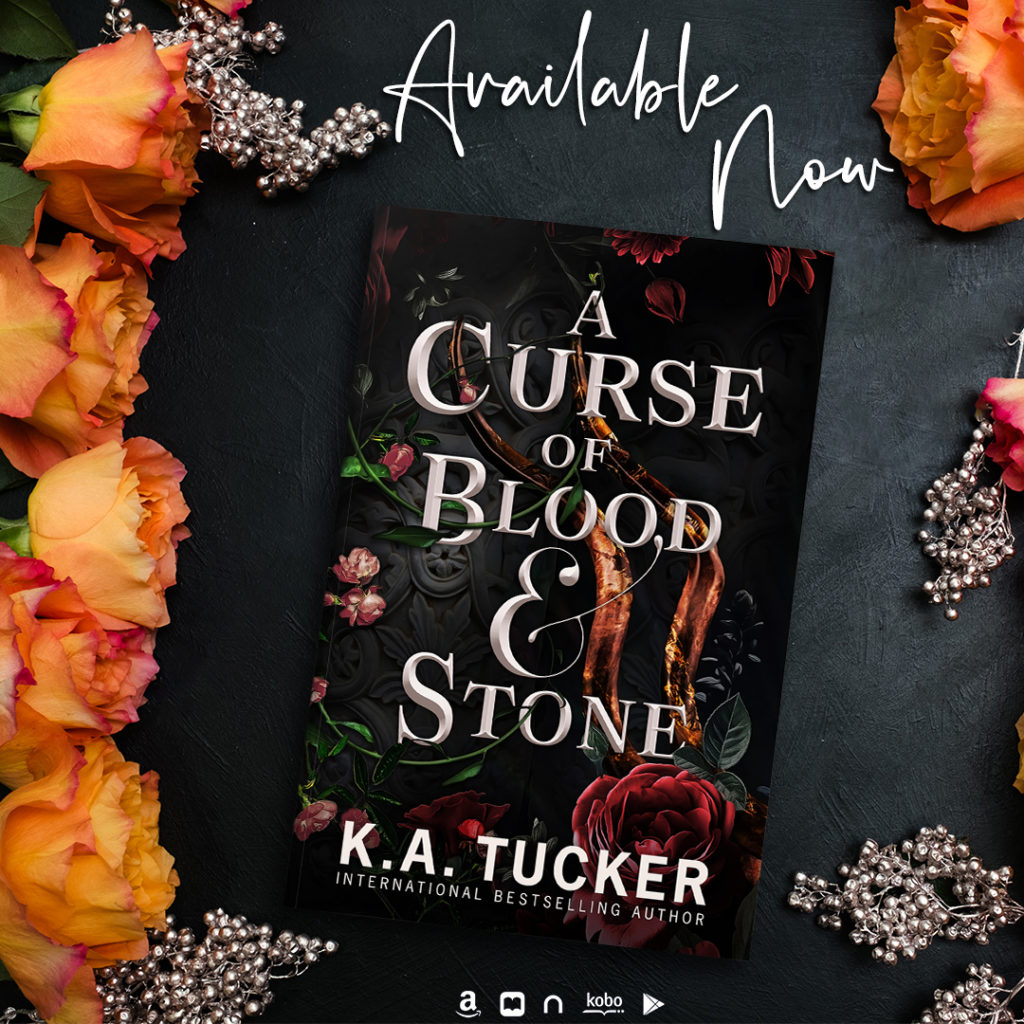 Disclaimer: This book was sent to me in exchange for my honest review. Thank you so much to K.A. Tucker and Valentine PR & Literary Management!