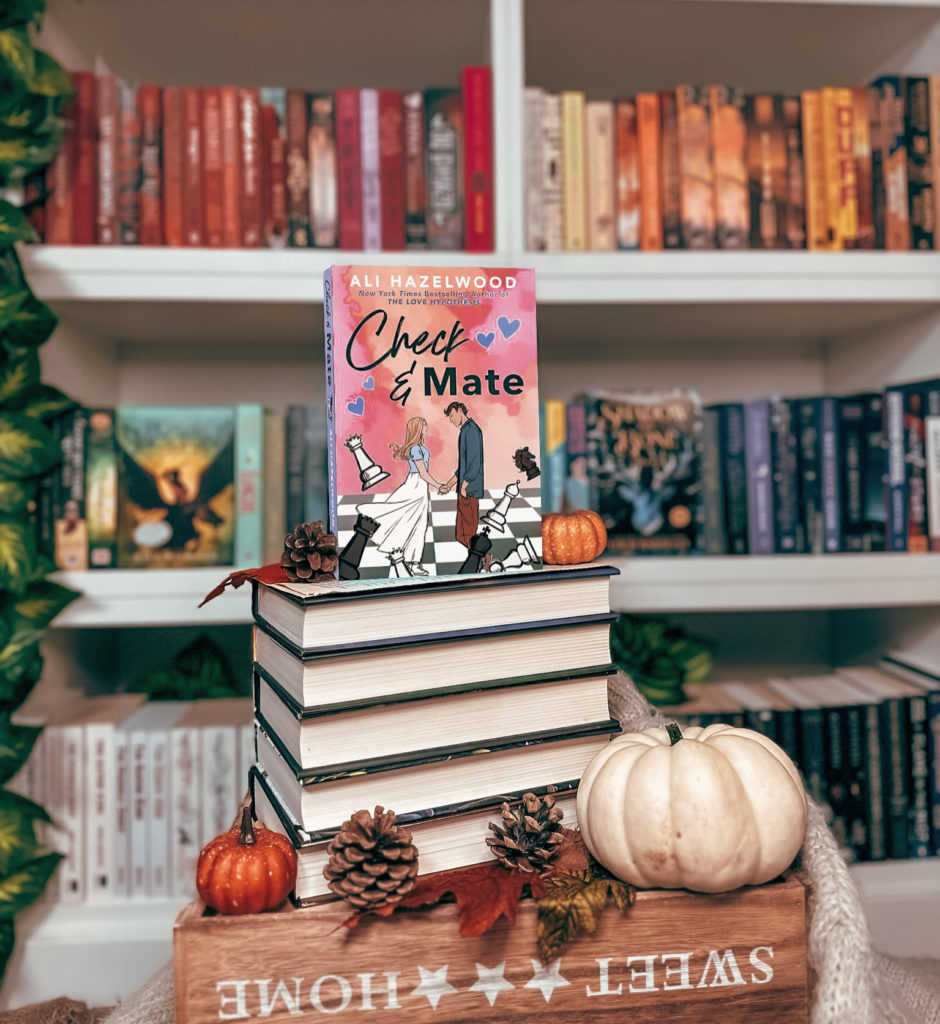 Book title: Check and Mate
Author: Ali Hazelwood
Rating: ⭐⭐⭐⭐⭐
Big thank you for the eARC to PRH International! #PRHInternationalPartner #sponsored
synopsis
Mallory Greenleaf is done with chess. Every move counts nowadays; after the sport led to the destruction of her family four years earlier, Mallory's focus is on her mom, her sisters, and the dead-end job that keeps the lights on. That is, until she begrudgingly agrees to play in one last charity tournament and inadvertently wipes the board with notorious "Kingkiller" Nolan Sawyer: current world champion and reigning Bad Boy of chess.
Nolan's loss to an unknown rookie shocks everyone. What's even more confusing? His desire to cross pawns again. What kind of gambit is Nolan playing? The smart move would be to walk away. Resign. Game over. But Mallory's victory opens the door to sorely needed cash-prizes and despite everything, she can't help feeling drawn to the enigmatic strategist….
As she rockets up the ranks, Mallory struggles to keep her family safely separated from the game that wrecked it in the first place. And as her love for the sport she so desperately wanted to hate begins to rekindle, Mallory quickly realizes that the games aren't only on the board, the spotlight is brighter than she imagined, and the competition can be fierce (-ly attractive. And intelligent…and infuriating…)
book review
This book was a literal masterpiece. It was my favourite Ali Hazelwood book, although it was a YA book (more like upper YA though). This book gave me such the Queen's Gambit vibes, and I love that show!
Mallory gave up on chess years ago, but when a favour for her friend leads her to win a game of chess against the current world champion, she is suddenly drawn back into the world of chess. Mallory is a genius chess player, but she is also a relatable character. She is scared of commitment and would do anything for her family. I absolutely loved her.
Nolan is a world championship and I swear this man is literal perfection. He can't do wrong, and he and Mallory are so cute. I would honestly do anything for Nolan!
The banter between Nolan and Mallory is amazing, and the tension between these two was off the charts. I swear this book is my Roman Empire because I think about it at least once a week. I cannot wait to read it again!