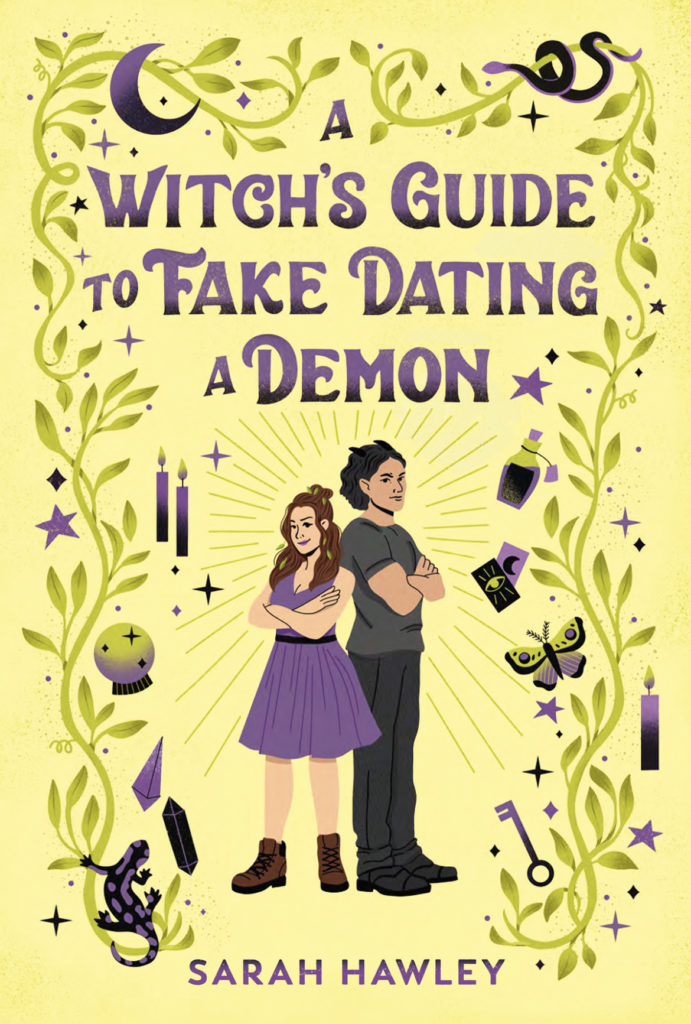 Title: A Witch's Guide to Fake Dating a Demon
Author: Sarah Hawley
Rating: ⭐⭐⭐.5
Goodreads link
synopsis
Mariel Spark knows not to trust a demon, especially one that wants her soul, but what's a witch to do when he won't leave her side—and she kind of doesn't want him to?
Mariel Spark is prophesied to be the most powerful witch seen in centuries of the famed Spark family, but to the displeasure of her mother, she prefers baking to brewing potions and gardening to casting hexes. When a spell to summon flour goes very wrong, Mariel finds herself staring down a demon—one she inadvertently summoned for a soul bargain.
Ozroth the Ruthless is a legend among demons. Powerful and merciless, he drives hard bargains to collect mortal souls. But his reputation has suffered ever since a bargain went awry—if he can strike a bargain with Mariel, he will earn back his deadly reputation. Ozroth can't leave Mariel's side until they complete a bargain, which she refuses to do (turns out some humans are attached to their souls).
But the witch is funny. And curvy. And disgustingly yet endearingly cheerful. Becoming awkward roommates quickly escalates when Mariel, terrified to confess the inadvertent summoning to her mother, blurts out that she's dating Ozroth. As Ozroth and Mariel struggle with their opposing goals and maintain a fake relationship, real attraction blooms between them. But Ozroth has a limited amount of time to strike the deal, and if Mariel gives up her soul, she'll lose all her emotions—including love—which will only spell disaster for them both.
mini review
The first part of the book was absolutely amazing, a five-star material. It was hilarious, intriguing and flirty. Mariel and Ozroth had great chemistry together and seemed like a great and interesting pairing. I loved the setting of the book – a world where humans and magical being coexisted, and a small town with a majority of witches was amazing. I wish we got more insight into a demon's community. I also loved Mariel's connection to nature since powerful witches usually have flashy powers. The plot also seemed intriguing – an accidental summoning of a demon by a witch who can't control her magic? Sign me up. Also, fake dating to please an over-controlling mother? That sounds so fun and has so much potential.
Sadly, from halfway through the book, it deteriorated. Mariel's self-deprecating was too much at times, and the idea that it gets fixed after one conversation is ridiculous. Also, Mariel became too dramatic, didn't have her own opinions (she believed whatever someone told her) and she was too quick to judge Oz.
Overall, I recommend you give this book a try. In the end it wasn't my cup of tea, but it has a lot of potential, and the first half of the book is definitely worth giving the whole book a try. Also, the witch aesthetics in this book were amazing.
Thanks for the free book PRH International. This book was sent to me in exchange for an honest review.
#PRHInternationalPartner #sponsored #prhinternational